Half Day Afternoon Tours from Melbourne
Half Day Yarra Valley Afternoon Wine Tour
Enjoy a half day afternoon wine tour departing Melbourne every Friday & Saturday afternoon
Don't have all day, or only in Melbourne for a limited time? No problem! Our popular half day afternoon wine tasting tour is the ideal taster to experience and explore some of the best the Yarra Valley has to offer. 
Enjoy a small group tour, sightseeing along the way, wine tastings at 3 premium cellar doors, including a wine & cheese pairing experience, and finish your afternoon at the popular Yarra Valley Chocolaterie & Ice-creamerie.
Half Day Afternoon Yarra Valley Wine Tour
Half Day  | Departs Every Friday & Saturday 
ONLINE PRICE $105 per person
Normally $115 per person
Half Day Afternoon Yarra Valley Wine Tour – Your itinerary
Enjoy a fabulous afternoon on this popular afternoon wine tasting tour. Enjoy VIP private group wine tastings at 3 premium Yarra Valley wineries/cellar doors, including a wine & cheese tasting, and finish the day at the popular Yarra Valley Chocolaterie & Ice-creamerie.
Coombe Melba Estate

Visit Coombe Yarra Valley, the historic property of legendary opera singer Dame Nellie Melba, and sample a selection of their award winning estate grown wines. You'll love the experience and ambience of this cellar door which sits alongside their stylish restaurant and gallery, stunning gardens and famous hedge!
Balgownie Estate
Experience Balgownie Estate's cellar door and friendly hospitality as you enjoy a wine tasting which will include some (or all!) of their award-winning wines from both the Yarra Valley and Bendigo wine regions. Whether you prefer chardonnay, pinot gris, pinot noir or a blend, or sparkling, there will certainly be a wine for you here!
Steels Gate Wines
Steels Gate Wines is a boutique winery which is quickly developing a reputation for great wine, food and service. Here you'll enjoy a wine tasting of reds, whites, sparkling and sweet wines paired with local Yarra Valley cheeses and other delights.
Yarra Valley Chocolaterie & Ice-Creamerie
Finish your afternoon wine tour and indulge your sweet tooth in the Yarra Valley Chocolaterie's delightful chocolate creations and complimentary samples.
Pick up & return
Departs Melbourne – 12:15pm. Returns Melbourne – around 6:00pm
Departs Ringwood – 12:45pm. Returns Ringwood – around 5:30pm
Please note: Winery selection may change or vary without notice on occasion, if any of these wineries are not available due to private functions or events etc. An alternative similar winery will be arranged.
Many photo opps on your Yarra Valley wine tour
Your half day afternoon tour includes plenty of time to take photos with the stunning Yarra Valley scenery as your backdrop.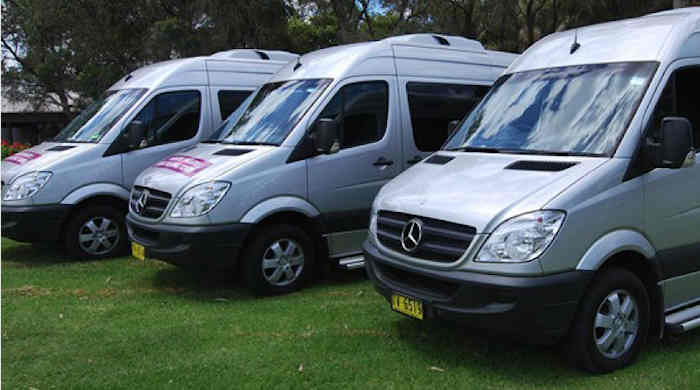 You will be picked up by one of our professional driver/guides from a convenient central Melbourne location, or additional pick up points en-route to the Yarra Valley.  Your knowledgeable driver knows the wineries and wines of the regions enhancing your experience as you tour the scenic Yarra Valley.
Frequently Asked Questions about our half day wine tour
What is the duration of the half day afternoon wine tour?
The afternoon tour departs Melbourne at 12:15pm and returns around 6:00-6:15pm.
How often does the half day afternoon tour depart?
The half day afternoon tour is available every Friday and Saturday. It does not run on Good Friday, Christmas Day, Boxing Day or New Year's Day.
Is lunch included on the half day tour?
No, the half day afternoon tour does not include lunch, so please ensure you have a filling brunch or lunch before you join the tour.
Which 3 wineries will we visit?
We select 3 of the best wineries/cellar doors in the Yarra Valley which will give you a great overview of the valley. We typically visit Coombe Melba Estate, Balgownie Estate and Steels Gate Wines followed by the Yarra Valley Chocolaterie. On the rare occasion a particular winery is closed for a private event or cannot accommodate us, we will find an equally suitable alternative winery.
How many people can book?
You can book for just one person, or up to 10 people. For a group more than 10 we suggest a private tour. We can customise private wine tasting tour to suit groups of up to 19 people.
Easy Online Booking

No booking fees

No credit card fees

Book now - pay on the day
What is included in this half day wine tour?
Half day tour from Melbourne to the Yarra Valley and return
Travel & transport on a Mercedes Benz mini-coach
3 premium wineries for wine tastings 
Includes a cheese & wine pairing experience at 1 winery
Friends for a fun afternoon
Couples for birthdays, anniversaries, dates
Women – hen's, girls' or mums' day out
Weekenders to Melbourne for shopping, shows, AFL
International tourists and cruise ship visitors
Participating Wineries & Venues
03 9650 0888
International +61 3 9650 0888